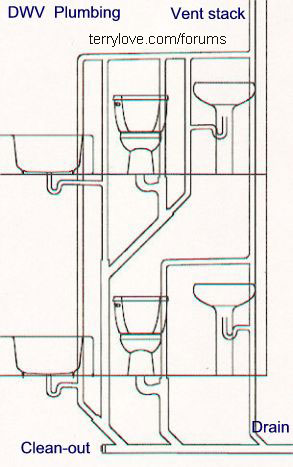 Neal,
It does sound like a venting problem. I don't know whether it could be fixed from the roof or not. You may not even have a vent attached to the drain. The glug-glug sounds like water siphoning out of the trap. Terry

: We have a modular shower stall that's always given us problems... In the last two years, we've had plumbers over to clean clogs twice. My efforts with plungers, drain cleaners, and enzyme cleansers had no effect. I'm personally convinced that Drano is about as effective on clogs as a McDonald's shake.
: Anyway, the only factor that's persisted is a "glug-glug" sound from the shower drain immediately after each shower. Until recently, the water drained at a reasonable speed, but after each shower, I'd hear a "glug-glug-glug" for the better part of a minute or two. A few days ago, the drainage speed dropped considerably, and we just had a plumber over to fix it. I haven't been home yet, but I gather that while the clog was fixed, the noise remains.
: The plumber suggested that one possible cause has something to do with the vent-pipe that exits through our rooftop, and fixing such a clog (if that is, in fact, the problem) might cost us about $450(US). My wife tells me there was another possible cause... She forgot the details, but I gather that fixing it would require completely ripping up the bathroom.
: Does anyone have any idea what can cause this, and whether a novice can do anything to fix it? Or even diagnose it?
: Thanks,
: - Neal