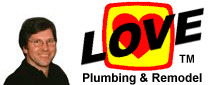 : We have a new Whirlpool DW that we are raising 6" above the kitchen sub floor and are wondering how this will affect the need for an air gap. We would like to NOT use one, but the DW instructions call for a min 20" distance from the floor where the DW is installed to the connection with the drain at the disposer. Can we get by with running the drain hose up to the 40" level under the DW counter top? This would put it about 22" ABOVE the sink/disposer drain pipe.
without an air gap and with the drain hose looped higher than the sink top:....If the sink drain plugs below the disposal (happens in the best of families) and the dishwasher drains while it is plugged, all the dishwasher water will be pumped into the sink and when the pump stops.. all that water plus whatever other water and debris that was in the sink will siphon back into the dishwasher, possibly over filling it and dumping several gallons of water and crud on the floor. looping the hose higher will not help this problem.
With an air gap (which must be mounted on or above the sink top):...... The water will not siphon back into the dishwasher.
The 20" height requirement is probably so that the dishwasher does not drain completely and does not drain during the wash cycles. Which is a separate (but related) issue from the air gap. if the dishwasher drains completely, then the pump and seals run dry for a couple minutes at the start and end of each cycle and wear faster. A little head pressure on the drain line also keeps water from draining or being pumped out when it's not supposed to be.
Looping the drain hose 20"+ above the bottom of the dishwasher will likely prevent inadvertent draining during the wash cycles even without an air gap. however , without an air gap too much water could be siphoned out of the dishwasher at the end of a drain cycle. I think this is unlikely since siphoning with a 5/8" dia hose will will still leave a little water in the dishwasher.
There is another alternative. there are air gaps made that do not mount on the sink. They can be mounted inside your wall cabinets with a drain pipe vented outside. These are not available from home depot type places, you'll have to order it off the web.