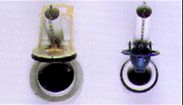 : Terry,
: I've seen your advice on the Toto UltraMax and Drake toilets.
: But I have only a 10" rough-in to work with, so my question is:
: Once I get away from the UltraMax, is Toto still the brand to go with (with like a Vespin) or are other brands comparable with 10" rough-ins?
Any of the Power Gravity models from Toto will work great. TL
: What makes the UltraMax better than the other Toto lines, since others have the G-Max flushing system with the 3" flush valves?
The Ultramax, Carlyle, and Vespin and Drake with the Power Gravity are similar.