Re: Vent Pipes...Whats Best?
Posted by Terry Love on July 12, 19100 at 12:32:54:
In response to Re: Vent Pipes...Whats Best?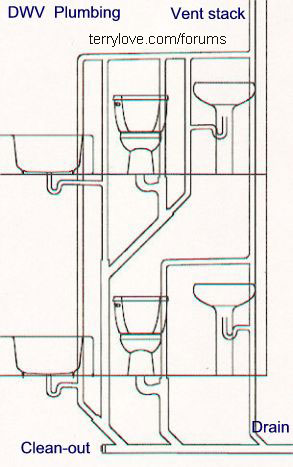 : I am installing a toilet in a basement that will be on it's own separate septic tank system. I don't have an easy way to install a vent pipe without putting some bends in it. Another alternative would be some type of mechanical vent, which would greatly reduce some labor, but would that be effective? And would it still be necessary to vent gases off the septic tank?
Use the fittings. A septic tank should be vented. For venting purposes, most codes call for maintaining the cross-sectional of the main waste line up through the roof.
On a 4" line, this can be achieved by using four 2" inch vents,
On 3", two 2" inch and one 1-1/2" inch.
If the line was sharing with others, then a single 2" would do.


Replies to this post
There are none.