Re: wet venting through a toilet
Posted by Terry Love on June 13, 19100 at 19:59:51:
In response to Re: wet venting through a toilet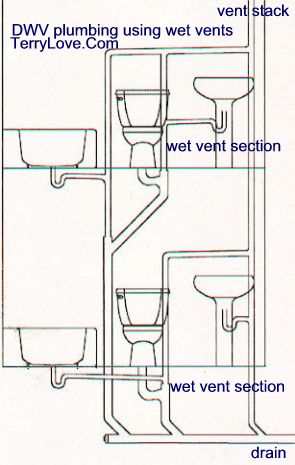 : I am re-doing an upstairs bathroom in a 100 yr old house. The room is gutted from the floor joists to the rafters and to the studs. The toilet drains into a 3" pipe after approx. a 18" horizontal run. This 3" pipe is also the vent stack to the roof. Is it advisable to wet vent the shower and sink through that 18" horizontal run? I was going to "T" the shower and sink drains together and have a single 1 1/2" pipe connect to the toilet's horizontal run. Shower drain is 6 feet from the toilet horizontal run. Am I flawed in my thinking. Thanks, Kevin
Kevin,
The shower drain should be 2" with a 2" vent until the lav drops into it. The maximum length of the shower trap arm is 60". Where these drain into the 3" line, there should be a wye fitting, if it's on the horizontal. The toilet will need to be vented with a 2" pipe. The purpose of the venting, is to prevent the traps from being siphoned dry when something like a toilet flushes and to aid in draining. Terry


Replies to this post
There are none.