Re: Choosing a high-style toilet that works!
Posted by Terry Love on June 09, 19100 at 16:58:38:
In response to Re: Choosing a high-style toilet that works!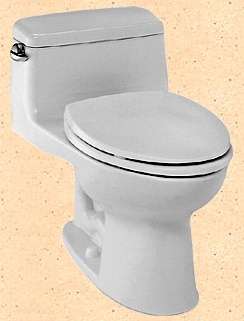 : Terry, I've read your article, and a lot of posts on your board. I'm trying to choose a toilet (two, actually) that is both dramatically appealing and functional... all at the best price possible, of course. I eliminated the Kohler Pillow Talk because of price, and find the Kohler San Raphael Power Lite very appealing. However, if I could find another low-profile but excellent toilet for considerably less, I'd happily switch. They have to be available in black.
: What would you recommend? Do I need a power-assisted flush? It will be our first venture into the 1.6 gallon flush arena... Vicki
Vicki,
Toto carries a line that works very well, and they come in black. The Supreme above retails for $630 in black. Terry
Replies to this post
There are none.