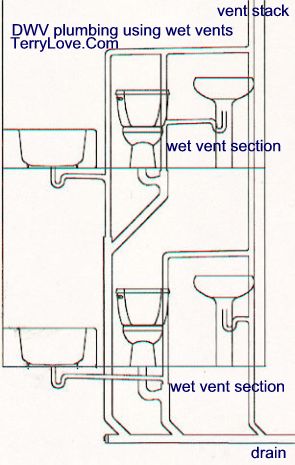 : I am addin a 2nd floor bathroom to a 250 year old house, floor joists are 7 inches. The roon is 10X10 square. The lav and water closet are on one wall, tub and shower stall are on opposite wall (this wall has 3 inch vertical stack to sewer and 3 inch vent to roof.
: Toilet is connected to stack via 10 foot section of 3 inch drain, there is not enough space with 7 inch joists to rotate 3X3X2 inch y 45 degrees for 2 inch toilet vent take off.
: Does code allow horizontal wet venting the 2 inch toilet vent for 24 inches before going vertical? (I.E. connect 2 inch horizontal drain to 3 inch drain,
: 1 1/2 inch lav drain will connect to the 2 inch drain/vent)
Mark,
UPC
908.1 Wet venting is limited to vertical drainage piping receiving the discharge from the trap arm of one (1) and two (2) fixture unit fixtures that also serves as a vent for not to exceed four (4) fixtures. All wet vent fixtures shall be within the same story; provided, further that fixtures with a continuous vent discharging into a wet vent shall be within the same story as the wet vented fixtures. No wet vent shall exceed six (6) feet in developed length.
905.2
Where vents connect to a horizontal drainage pipe, each vent pipe shall have its invert taken off above the drainage center line of such pipe downstream of the trap being served.
Have you considered furring down the ceiling to cover the pipes?
Terry