Re: dishwasher plumbing in. drawing
Posted by Terry Love on June 08, 19100 at 02:46:03:
In response to Re: dishwasher plumbing in. drawing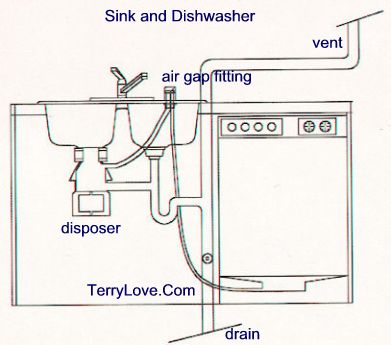 : : I am trying to plumb in a new dishwasher- I have got as far as turning off the main water supply, so I can take out the old dishwasher. However I don't know where to turn the water off! where is it likely to be?
: : can I turn off the supply to the dishwasher using the fawcet under the sink?. There is an oval fawcet with "brass craft " stamped on it,under the sink, that is connected to the pipe from the old dishwasher. I'm assuming this will turn off the water supply. I cannot get the fawcet to budge. How can i get the thing to turn? The old dishwasher was plumbed in 15 years ago. The house is 30 yrs old.
: : i'd like to do this myself without having to resort to calling a plumber.
: sarah
: Sarah,
: That brasscraft sounds like the shutoff. A plumber may be able to shut it off, or in most cases he would replace the non-working shutoff with a new one. 30 years is a long time for a hot water shutoff. If you can't turn it now, wouldn't you like one you could? Pliers may turn the shutoff, or break it off. Good luck Terry
Replies to this post
There are none.