Re: Adding a Bathroom - How to vent?
Posted by Terry Love on June 08, 19100 at 02:26:37:
In response to Re: Adding a Bathroom - How to vent?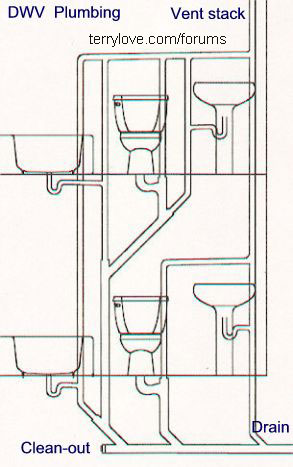 Ed,
There are several plumbing codes prevailing in the US. I don't know which plumbing code you are under, but if you are required to use the UPC plumbing code, plan on using a 2" vent for the bathroom. This is assuming that you have the required cross section already. You probably already do. This drawing is basic plumbing without using wet vents. If you were to wet vent some of the "same-floor fixtures" you could reduce some of the pipe and fittings.
Terry
: : I am adding 1 toilet, 1 shower, 1 sink. Can I use 1 vent? Are there any diagrams on the web for this? Actually, I will be adding the bathroom in 2 or 3 years, for now I want to put the vent pipe and electric in the wall and will do the plumbing from underneath later. This will just be a closet for now.
: : Thanks,
: : Ed
Replies to this post
There are none.