Re: Glazed trapway on Kohler
Posted by Terry Love on May 31, 19100 at 03:55:47:
In response to Re: Glazed trapway on Kohler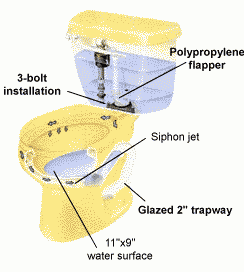 : If non-absorption of stains is the purpose, then I would see
: little point in glazing the trapway beyond the bottom of the
: bowl. I really think that it is to assure unimpeded movement
: of waste, and without glazing, friction is much greater.
: The question remains, is it normal that at least some of the top
: of the trapway at the exit is not glazed, or is it a screw up?
Richard,
Glazing does help the waste slip through the trapway. The underside of the toilet should not be glazed. The wax needs to stick to the bottom side. Kohler Wellworth is not considered a good flushing toilet in my opinion. Terry